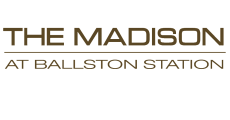 Your Review
Submit a Review

Resident Reviews
Perfect location, outstanding service, wonderful people |Recommended: YesThis is my second term at The Madison and I am still in the honeymoon phase about living here. I love my apartment, its proximity to work and the metro. I truly and deeply appreciate everything management does for the residents. Thank you for the new business center and the coffee machine And last but certainly not least, I would like to express my appreciation for the office staff Angie, Paula and James are caring and wonderful people providing nothing less than outstanding service every single time I interact with them. I would like to rate them 6 - Beyond Excellent Thank you very much for all you do
A great place to live |Recommended: YesI lived at the Madison at Ballston Station for 13 months and loved it. Had a great apartment 207 ......very sunny and private. The staff mostly dealt with Paula and Angie are the best very pleasant and helpful. Maintenance is very attentive the few times I needed something. Apartments are very nice. I have two dogs and very dog friendly neighbors and staff. Really enjoyed living here while I was in the Arlington area. Building underground parking is very reasonable at 50.00 a month for the area. The activilites the staff puts on around holidays are the best
Very nice complex|Recommended: YesGood conditions. Need to clean the garage it has been a long time since it has been cleaned.
Excellent! Great! Outstanding....|Recommended: YesIt's been excellent living here in the Madison. Excellent management and staff and the environment is very professional with an unequivocal maintenance team, very responsive. I will miss all of the events presented here at the Madison i.e. continental breakfast, wine tasting, doggy run, Xmas and so many other events. Very family oriented and dog friendly to include community based and within walking distance to the Ballston station mall. I will hate to leave however I must present a notice to vacate my apartment due permanent Change of duty station (PCS/military)Special thanks to Angie, Paula, Rachel and Mariehopefully I spelled your names correctly. Apartment 327
Ugly Elevator Because Freight Padding Never Removed|Recommended: NoMoved in a couple of months ago and so far so good. Some issues had to be fixed, like electrical problems, and maintenance was prompt. But the elevator we use is so ugly, we're ashamed to have guests visit. Madison managers keep the elevator padding in all the time and it's so gross. It should be removed unless requested by a move-in/move-out. We've lived in 4 other apartment complexes in VA in the past 6 years and have never seen anything like it! The other elevators are distant, so not a viable alternative. Sometimes kids pull on the padding and when it falls it stays on the floor all day. We had planned to live here a 2nd year, but now not so sure.
Gorgeously maintained with great amenities and friendly, helpful staff.|Recommended: YesThe Madison is a wonderful place to live!
Great value for location plus the amenities|Recommended: YesI am in a 1BR, 1 BA and my boyfriend just moved in and we are cozy, and comfortable. It is a great value unit, with a beautiful kitchen - lots of cabinet space and a pantry, large bathroom with washer and dryer, huge closet, big enough for both of us and I have a lot of clothes/shoes. Underground parking and storage available, with concierge service, a small gym for days when you don't feel like leaving the building, and same with the pool in the summer which is often quiet when rambunctious kids aren't out there ...there are a lot of family's starting out with the elementary school right across the way. Parking around the building for visitors is tough, I wish they accepted cash/card at the concierge desk for when we get a visitor pass for underground. I also wish it were not a full $5 a day. Parking in the garage for residents is great, no issue. Love the bike storage, extra storage facilities you can rent. Off the beaten path so quiet enough even with the construction. But I can hear the apartment above me ALL the time. and their dog. like they are in the next bedroom. I don't like that the County caps the hot water that we pay for.
Pet droppings are out of control!
|Recommended: Yes
I love living here, but a lot of residents don't respect the rules regarding their dogs. Today in just one walk around 4401 I picked up nine different droppings from other dogs (all BIG dogs), and many dog owners don't use leashes. Not sure how you're going to start enforcing these rules, but it needs to be done!
Thank you for your review. We will definitely find a way to improve this and appreciate you letting us know.
I really enjoy living here, however, I think that maintenance needs some improvements etc. |Recommended: YesI would tell them it is a very friendly, safe, and welcoming apartment complex.
The Madison is a great place to live.|Recommended: YesI would tell them that the Madison is a great place to live. The building is safe, clean and the staff is excellent. The location is perfect to mass transit. I really enjoy the events that are hosted for the residents.
Great location but in a quiet area with excellent amenities|Recommended: YesVery friendly staff at the concierge desk. Maintenance issues get addressed quickly. Great amenities, especially the gym.
Really enjoy living here.|Recommended: YesThough it is a bit far from the Ballston metro stop, the building is wonderful with very well appointed apartments, lots of space, and a great staff.
It's a great place to live|Recommended: YesI am telling people that I love the place, it's new, nicely designed, the office staff and the residents are very friendly and the dogs are allowed - which is great!
Great Staff, Amazing Ammentites, Good Rates|Recommended: YesIt is a wonderful community.