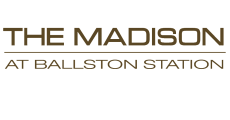 Your Review
Submit a Review

Resident Reviews
I love it
|

Recommended: Yes
Perfect home to come home to|Recommended: YesI've lived at the Madison at Ballston Station with my partner for over a year now and we could not have dreamed of a better home. We moved from CT so we knew that the rent from what we were used to paying would increase significantly due to the area, but out of all the places we looked at this property was by FAR the nicest with the best accommodations parking, pool, fitness center, etc., and was actually the cheapest. The property is beautiful and I love how the building always smells like you just walked into a spa. It is clean, and the landscape is just beautiful, especially in the summer and spring. When we first moved into our apartment we did run into some issues with the staff, but thankfully all has been resolved and for the most part many of them are very friendly. The ONLY issue I have had was with my upstairs neighbor. Unfortunately I live on the third out of four floors and he is extremely noisy which is quite bothersome. So if you can get a good neighbor above you or live on the 4th floor then you should be good. I would most definitely recommend looking into this apartment complex if you're looking for a home in the DMV area We just signed our year 2 lease and are extremely happy to continue to still call this place home.
Great place to live |Recommended: YesI have been really happy here the past 5 1 2 months. Besides some excessive noise from my upstairs neighbor in the beginning every else is great
Luxurious, in price and design|Recommended: NoGood quality buildings, overall a great place to live, but the utility companies you're forced to use are a bit of a hassle to deal with and some of the cabinets and whatnot in the apartments feels a bit low quality.
Nice and quiet property
|Recommended: Yes
Overall, the experience has been positive. However, we have experienced continued issues with some of our appliances, and the maintenance crew has made no effort to fix them no matter how many requests I submit.
We would like to thank you for taking the time to review our community and for sharing your experiences with us. We are happy to hear that overall you enjoy calling the Madison home, but we are dismayed to hear that our maintenance team has not been able to resolve the issue. Our property manager has reached out to you regarding the replacement of your washer and dryer, and has scheduled a meeting with you to further discuss your concerns. Should you need immediate assistance or have any further questions, please do not hesitate to call our property manager directly at 703-527-4040.
Great Place|Recommended: YesMy wife and I really enjoy living here The staff is very pleasant and helpful, the noise between apartments is very low and the community is very welcoming. I enjoy the little events the Madison puts together such as the tastings. In addition, the location is also great Being close to the restaurants and shops makes it very convenient for getting food and shopping. Overall, I would recommend the Madison to anyone looking to move to Arlington.
Clean, modern, and spacious, with great amenities|Recommended: YesWe've lived at The Madison for about 3 months now. The apartment is large, clean, and modern, with updated appliances and attractive furnishings. The pool and exercise facilities are both top notch and are rarely crowded. Service is a little hit and miss - some of the staff are extremely friendly, courteous, and polite, while others seem like it is a huge burden for them to simply do their job. We wish it were a little closer to the nearest metro, but rent is so much more affordable even being just a mile away. Long story short we are just starting our third year living in Arlington, and we wish we had spent the first two at The Madison.
Starting to get unhappy here
|Recommended: Yes
I really enjoyed living here the first few months, but now the neighbor below me acts like this is a frat house. Blasts music so loud I can hear it through my floor. Residents keep leaving trash in undesignated areas and its will be left for days. If the noise issue in particular continues after I keep complaining, I won't be renewing my lease. I shouldn't have to listen to my neighbors music all night.
Thank you very much for taking the time to submit a review about our community and for sharing your concerns with us. We are dismayed to hear that you have had this experience and sincerely apologize for any inconvenience caused by the noise from surrounding apartments. Our property manager would like the opportunity to speak with you further regarding your concerns and possible solutions. Please contact him at 703-527-4040 at your earliest opportunity. We look forward to hearing from you soon.
Great place for good price|Recommended: YesGreat community with plenty of amenities
Adequate|Recommended: YesLiving here is fine. There has been a noticeable decline in the helpfulness and professionalism of the staff over the last year. But that is only frustrating when there are issues that need to be addressed requiring interaction with them, which are thankfully few and far between.
Clean, responsive and friendly staff, quiet living, indoor parking, great resident parties|Recommended: YesIt is clean The staff is responsive The staff is very friendly It is quiet Indoor parking is excellent I like the theme parties for the residents. Thank you for holding them
Overall Experience
|Recommended: Yes
I lived at the Madison for 3 years and really enjoyed my time living there. The staff is tremendous and is always there to answer your questions. Any maintenance requests I had were fixed within 24-hours, which was great. The grounds are clean and the coffee machine is a great plus. It is new construction, so it can get a bit noisy since the walls are a little thin, but even when I had issues, the staff worked to make sure that I was comfortable in my apartment. A great experience overall that I would recommend.
Thank you for taking the time to submit a review of our community. We appreciate the five star rating! We strive to provide the best customer service possible to ensure an enjoyable experience for our residents and are happy to hear that we are meeting your expectations. We are so happy to hear that you enjoy calling the Madison home!
Great space with all the amenities and a nice location.|Recommended: YesThe Madison at Ballston Station is a very nice place to live. It is a nice location where you are still walking distance from everything in Ballson, without being smack dab in all the commotion. It has all the amenities you would want from an apartment community with a great apartment layout. Can get slightly noisy at times with kids running the halls, but neighbors are all courtesy. I am very happy with my decision to move here.
Very Comfortable|Recommended: YesNice Space
Apartment Review
|Recommended: No
Nice place, more expensive than other places of this age in the area. I have been here over three years, without issues. I stay here one week a month. All of the sudden, recently, I have had the apartment management slide a letter under my door, and also another time had someone in management come to my door accusing me of making noise at all hours of the night, based on someone below me. I live alone, have no pets, no parties, all I do is work here, and just because the people under me get three weeks of silence and one week they might here me walking across the floor or running the dishwasher, it was obvious that management believed them. Have they been there as long as I have The apartments are not soundproof - I hear neighbors all of the time, but I have never complained about anyone or anything here. We live in an apartment building, not in a house. When I am at home in my house in Colorado, I hear nothing, so when I come here for one week a month, all I hear are neighbor's kids, kids visiting parents on weekends running through the hall, dogs barking, water running, people moving in and out, music, doors slamming. In the summer, it isn't even enjoyable to go to the pool anymore with twenty something year olds that hang out together, drink at the pool, talk loudly and swear loudly with kids there. It is an apartment, I expect that. However, for the amount of money I pay for a studio apartment, and getting harassed about making too much noise, I would not recommend this place, which I would have done, previous to this year.
Thank you very much for taking the time to submit a review of our community and for sharing your concerns with us. We understand your concerns and apologize for the inconvenience the complaints have caused. Our property manager would like the opportunity to speak with you further regarding your concerns to see if we can mend our relationship and formulate a resolution. Please contact him at your earliest opportunity at 703-527-4040.